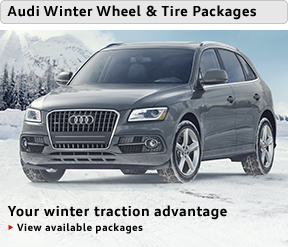 An Audi Winter Wheel & Tire Package1 can help you meet the challenges of winter driving. Audi Original Winter Tires are recommended wherever season-long temperatures reach 45°F or less. Performance-matched to your Audi model, they take upwhere summer performance and all-season tires leave off. In wet or dry conditions, on clear or snow-covered roads, Audi Original Winter Tires can help you maintain control. So whether you're hitting the slopes or taking the kids to school, you can drive with confidence.
The Benefits are clear: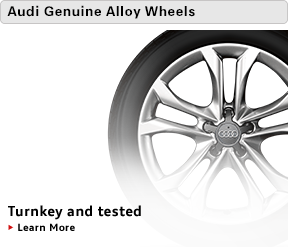 • Promote safer travels for you and your family
• Lessen stress on your winter journeys
• Extend the life of your stored summer tires
• Deliver year-round Audi performance
Complimentary Road Hazard Coverage
Audi Winter Wheel & Tire Packages come with 24 months of Road Hazard Coverage against tire damage caused by poorly maintained roads or debris. Coverage is prorated annually for 100% of the replacement cost the first year, 50% of the replacement cost the second year. 
"Audi" and the four rings logo are registered trademarks of AUDI AG. All other trademarks are the property of their respective owners.